Ken and I took some time to ourselves this week. We went for a drive to some of our favorite locations in the hill country of Texas. It was beautiful, though a bit nippy for around here, and it gave us the chance to enjoy each other's undivided attention- at least when we were not wandering antiques shops.
The hobbyist birder in me enjoyed a few "first sightings" for the year and some even cooperated for a photo-op.
Mallard at park in San Saba
Ring-necked duck near Enchanted Rock
Web image of Northern Caracara -
we spotted one near Enchanted Rock but he flew
before we could take a photo.
Web Image of Eastern Bluebird
web image here too -
he is too hard to spot in our photo
I love the history that is found as we wandered a little further south in Texas to the area settled by German immigrants. We traveled a new road that brought us to Trickham, Tx. The town was originally named Muke Water but later renamed "Trick'em" for the reputation of the store propreiter who played practical jokes on the local cowboys. The post office refused to enter the name and went with Trickham as a substitute. I have learned a lot about Robert E Lee this past year as I picked up Jeff Shaara's
God's and Generals
and am slowly making my way through it. He was stationed in this area in the years just before the civil war. How exciting for the history buff in me to stumble upon this marker in town!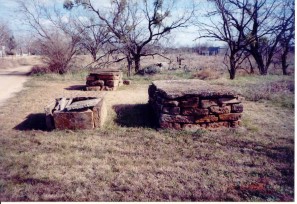 Some of the very unusual graves in what is left of the town.
We enjoyed lunch at one of our favorite parks. San Saba has a beautiful city park with trails to walk and lots of water features to enjoy.
water spilling over dam at San Saba city park.
Water wheel in San Saba city park
I love the old stone houses in many of the towns in this area.
Window at a home in Fredericksburg
The quilter in me seems always drawn to patterns, wherever I find them
We had such a peaceful, wonderful time together.
I started to share all of this yesterday as part of my Friday Reflections. But life with its interruptions does not always go with my plan. Instead it is now Saturday, tamales from a local Clyde family are warming for lunch and looking back upon this week I have made progress in some areas and not much in others. I am still on track with reading through the Bible this year using my Daily Bible NLT. I did not get as much writing done for the blog this week, but that is the way vacations should be. My running was put on hold while I dealt with a bum foot, arthritis is not always my friend. I read a bit of the book I am working on,
Blogger Behave
I love some of the points Laura Booz is making about the priorities in our lives and have started to share some quotes and thoughts on my page
What I am Reading
. No work done on a quilt this week but you should see my closet! I suddenly was motivated to have Ken and I go through all the stuff in our bedroom and closet and get rid of things we do not love, things that do not fit anymore (because we are making good progress on our weight loss goals!), and just some of the stuff we have accumulated.
It has been a good week. I love having my guy around and it will be hard to see him off to work next week.
Next week will bring some new challenges as I take on leadership for a women's Bible study. The shy side of my nature is getting pretty nervous, but the woman who wants to become all that God wants me to is excited about the opportunity to share that which fuels my life with passion and purpose.
Grace, Peace, and Mercy,
Deb